Try Injera Tacos and Yellowfin Tuna Kifto at Union Market's New Ethiopian-Inspired Stall
July 13, 2017
               News
Try Injera Tacos and Yellowfin Tuna Kifto at Union Market's New Ethiopian-Inspired StallWritten by Jessica Sidman | Published on June 13, 2017
Chef Hiyaw Gebreyohannes grew up in his mom's traditional Ethiopian restaurant, first in Toronto, then Michigan. But in recent years, he's been trying to find new ways to make the cuisine hipper and more approachable in order to "put it on the American dinner table."
In New York, he launched Taste of Ethiopia, a line of microwavable Ethiopian meals available in Whole Foods and Amazon Fresh. And now, he's moved to DC, where he'll open Gorsha Ethiopian Eatery, a fast-casual stall in Union Market.
If you're familiar with Ethiopian food, you'll recognize the flavors but not necessarily all of the ingredients and preparations. For starters, Gorsha is offering basmati rice bowls, even though rice isn't a staple of the Ethiopian diet. As Gebreyohannes explains, rice bowls are more accessible and easier to grab-and-go than the spongy injera bread that typically accompanies an Ethiopian meal. That said, the dishes will still come with some injera and optional baked injera crisps. Beyond the bowls, Gebreyohannes is also offering "injera pockets," or as he calls them, "Ethiopian tacos."
Customers can choose from three proteins and five types of vegetables. Riffing off of kifto, a chopped raw beef dish mixed with spiced butter, Gebreyohannes prepares raw yellowfin tuna marinated in Ethiopian spices and olive oil. And rather than offering doro wat, a popular chicken stew, he simply sautés the chicken in berbere.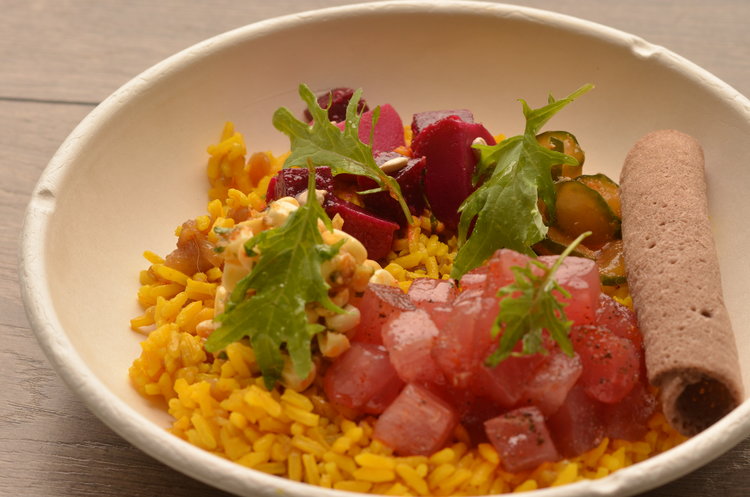 Bowls and "pockets" are completed with a choice of toppings and sauces, which again veer untraditional. Instead of ayib, a mild fresh cheese, Gebreyohannes has create a white honey sauce that will balance the spice of the meats. You'll also find pickled shallots, corn salsa, berbere daikon, and more.
On weekends, Gorsha—whose name means to feed someone from your hand to their mouth—will also offer some off-menu specials promoted on social media. One of them will likely involve injera topped with berbere smoked salmon and yogurt-parsley cream cheese.
SOURCE : THE WASHINGTONIAN