Ruth Negga In Full Bloom
October 23, 2017
               News
This Article Was Originally published on JUN 26, 2017 by THOMAS BELLER
She may have shot to stardom last year with an Oscar-nominated performance in Loving, but don't mistake the actress for an ingenue.
It is Mother's Day in New Orleans when I meet Ruth Negga for lunch at a tidy place uptown called Kenton's. A hot, humid day, early afternoon. She has been in town for a month shooting the second season of AMC's show Preacher, living in a large, crumbling castle that sits incongruously near Audubon Park.
In the cool air of the restaurant I give my name to the maître d' and step aside to survey the room, which is filled with nicely dressed families in pink and seersucker blue and no one who looks like Ruth Negga. Then I turn around and see her directly behind me, slouching against the wall and removing her shades to peer into the room as I did a moment ago. She wears dark jeans, black patent leather loafers, and a thin dark gray crew neck sweater; it's all rather somber except for the vibrantly colorful turban wrapped around her head.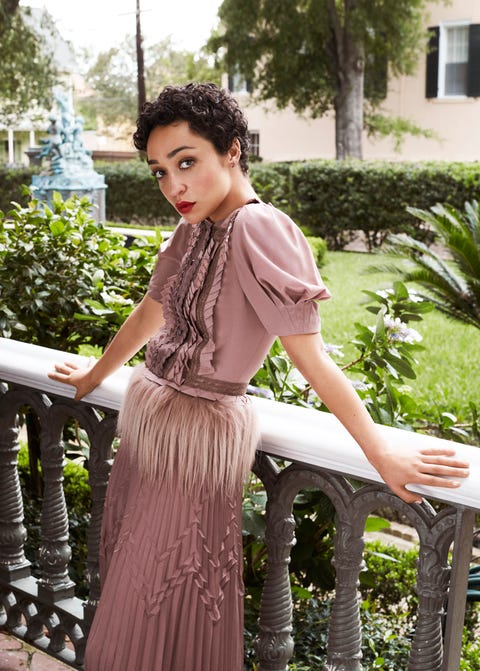 ‍
She has walked over from the castle and is perhaps just starting to recover from the heat, but my first impression is of a radiantly bored adolescent, or maybe Buster Keaton faced with an unpleasant chore. For this reason I greet her laughing. She perks up right away, the first of many rippling transformations of her expressive face I will see today.
It's awful to not know someone who you look like. It's tragic, but that's life, isn't it?
It has been a busy year for Negga. In February she attended the Academy Awards, a best actress nominee for her role in the civil rights drama Loving. Even though she was up against a formidable roster (Emma Stone, Natalie Portman), there was reasonable hope of victory. "The stabbing simplicity of Negga's acting is breathtaking," Rolling Stone film critic Peter Travers wrote of her portrayal of Mildred Loving, one half of a mixed-race couple whose marriage was the center of a landmark Supreme Court ruling in the 1960s.
The Oscar went to Stone for La La Land, but the evening saw the relatively unknown Negga, dressed in custom Valentino, catapulted into film and fashion world stardom—a status that seems to have only been magnified by recent red carpet appearances, especially at this year's Metropolitan Museum of Art Costume Institute Gala.
Negga was born in Ethiopia's capital city, Addis Ababa, in 1982 to a white Irish mother and a black Ethiopian father. In the mid-'80s, during a period of growing political instability, there was "a window during which the educated people began to leave," she says. "But not my father."
Instead Ruth and her mother moved to Ireland, and her father, a surgeon, stayed behind. By the time he tried to leave, "the window had closed." He died when she was seven. "Murdered in a car crash," she says. "I mean killed in an accident." They were notified by letter. "It's not a taboo subject," she says. "My mom talks about my dad a lot. It's awful to not know someone who you look like. It's tragic, but that's life, isn't it?"
SOURCE : TOWN AND COUNTRY MAGAZINE