Boris Johnson urged to intervene to save Briton on death row in Ethiopia
October 4, 2017
               News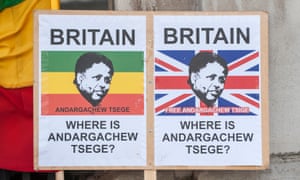 ‍
‍
Heads of Law Society and Bar Council ask foreign secretary to seek release of Andargachew Tsege, who was kidnapped in 2014
Boris Johnson has been urged by the heads of both branches of the legal profession to call for the release of a Briton who was abducted in Yemen and is now on death row in Ethiopia.
The president of the Law Society, Joe Egan, and the chair of the Bar Council, Andrew Langdon QC, have written to the foreign secretary to ask him to intervene more forcefully in the case of Andargachew Tsege.
Johnson has said he will "not interfere in the legal systems of other countries" and that calling for his release would not "be helpful at this stage".
Tsege, known as Andy, was kidnapped in 2014 and forcibly flown to the Ethiopian capital, Addis Ababa, and is an opponent of the regime. He holds British citizenship. His partner, Yemi Hailemariam, and their three children are also British and live in the UK. She has not spoken to him for nearly three years.
Guardian Today: the headlines, the analysis, the debate - sent direct to you Read more
Tsege, 63, had previously been secretary general of Ginbot 7, a political opposition party that called for democracy, free elections and civil rights in Ethiopia. He first came to the UK in 1979.
Tesge was travelling from Dubai to Eritrea in June 2014 when his flight stopped over in Yemen. It is believed Yemeni security staff handed him over to the Ethiopians.
The letter to Johnson from Egan and Langdon says they are very concerned about the situation of Tsege, who is "unlawfully detained on death row". It points out that he was tried in absentia, without notice and sentenced to death in 2009.
"He was hooded, shackled and rendered at night to Ethiopia where he was held incommunicado for over 50 days and has been detained ever since," the letter continues. "We understand that, in three years, he has been permitted a single phone call to his wife and children, and that the UK government has yet to secure effective consular access. Mr Tsege has now been unlawfully held on Ethiopia's death row for over 1,000 days."
Egan and Langdon say that Tsege's conviction violates international law standards. Their letter to Johnson concludes: "We are deeply concerned about these flagrant violations of a UK citizen's rights and hope you will make representations to the Ethiopian authorities to ensure that [they] ... release Mr Tsege without delay and enable him to return to the United Kingdom."
Hailemariam told the Guardian: "The foreign secretary is saying we should accept kidnapping. It's illogical and it's heart-breaking. The Ethiopian government refuses to let me travel to see him."
‍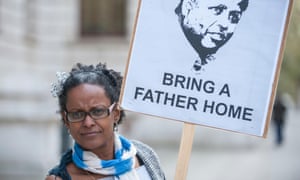 "The British government needs to do more," she said. "The last thing that Boris told me was that I had left him 'with a lot to think about'. But I don't know what that means. There's no political will and that's really the problem."
Maya Foa, the director of Reprieve, which is campaigning for Tsege's freedom, said: "[He] has suffered extreme abuses at the hands of the Ethiopian government, from kidnap to torture to an unlawful death sentence imposed for his political views while he was living with his family in London.
"By failing to secure Andy's return to his partner and three children in the the UK, Boris Johnson is failing to stand up for British values and the rights of a vulnerable British citizen."
In a public letter to the foreign secretary earlier this year, two former justice secretaries and a former DPP – Dominic Grieve QC, Lord Falconer QC and Lord Macdonald QC – also urged Johnson to call for Tsege's "immediate release" in "the light of the international law violations".
In an open letter published in August on the Foreign Office website, Johnson said he had raised Tsege's case with the Ethiopian government on numerous occasions.
He added: "Britain does not interfere in the legal systems of other countries by challenging convictions any more than we would accept interference in our judicial system.
"We do, however, lobby strongly and consistently against the application of the death penalty ... Neither calling for his release nor reducing our commitment to the Ethiopian people would be helpful at this stage. It could, in fact, damage the progress we have made in this case, including consular access to Mr Tsege."
Ben Cooper, the barrister who represents Tsege, said: "The foreign secretary has shown real disinterest in the flagrant ill-treatment of a British citizen over a long period of many months and years. "Boris's defence of avoiding interfering with a foreign legal process rings hollow in the absence of any process whatsoever for three years following a brazen abduction and no access to a court. It is high time the minister got off the fence and shows he can roar for elementary justice."
Since you're here …
… we have a small favour to ask. More people are reading the Guardian than ever but advertising revenues across the media are falling fast. And unlike many news organisations, we haven't put up a paywall – we want to keep our journalism as open as we can. So you can see why we need to ask for your help. The Guardian's independent, investigative journalism takes a lot of time, money and hard work to produce. But we do it because we believe our perspective matters – because it might well be your perspective, too.
I appreciate there not being a paywall: it is more democratic for the media to be available for all and not a commodity to be purchased by a few. I'm happy to make a contribution so others with less means still have access to information.Thomasine F-R.
SOURCE : THE GUARDIAN